Leadership
Poojya Sri Sanganabasava Shivayogi Banthanala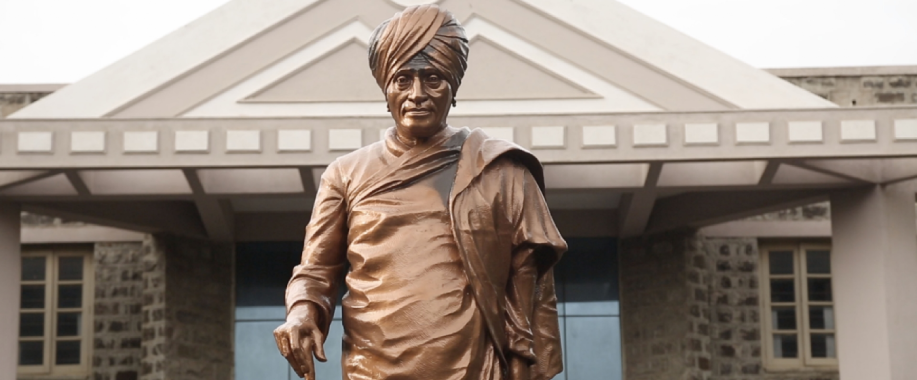 Sri Sanganabasava Shivayogi Banthanala Swamiji (1912 to 1972) was anointed as a Pontiff in 1916 when he was just 17 years old. During his lifetime, he made a significant contribution to the field of education and strove to create religious and spiritual awareness in people.
His used mythological discourses extensively to lead people on the religious and spiritual path, which made him a living god. His discourses on Prabhulingaleele, Basavapurana, Siddarama Charithre, Shoonya Sampadane, Akkamahadevi Charithamrutha, Nijagunara Anubhava, etc. took him closer to the people.
He established a 'Garadi Mane (Gymnasium)' for gym practice, a library for readers, a primary school for children, and a Marriage hall for holding auspicious programmes, even before independence.
In 1926, heeding the request of Dr. P. G. Halakatti, the founder of BLDEA, Poojya Sri Sanganabasava Shivayogi Banthanala Swamiji began efforts to strengthen BLDEA.
In 1945, acting at the request of Poojya Sri Sanganabasava Shivayogi Banthanala Swamiji, Mathrushree Bangaramma Sajjana donated 54 acres of land to Sri Banthanala Swamiji and earned the name as 'Danachinthamani'. In the same year, 'Vijaya College' was started in Bijapur
In 1951, Poojya Sri Sanganabasava Shivayogi Banthanala Swamiji organized a conference of all religions in Lachyana. He invited eminent personalities from Islam, Buddhism, Christian and Jain religions to the summit and paved the way for religious harmony. Pooojya Swamiji established hundreds of high schools, free hostels and colleges in Vijayapura.
A bronze statue of Sri Sanganabasava Shivayogiji has been installed in front of Shri B M. Patil Medical College.
Vachana Pitamaha Dr. P. G. Halakatti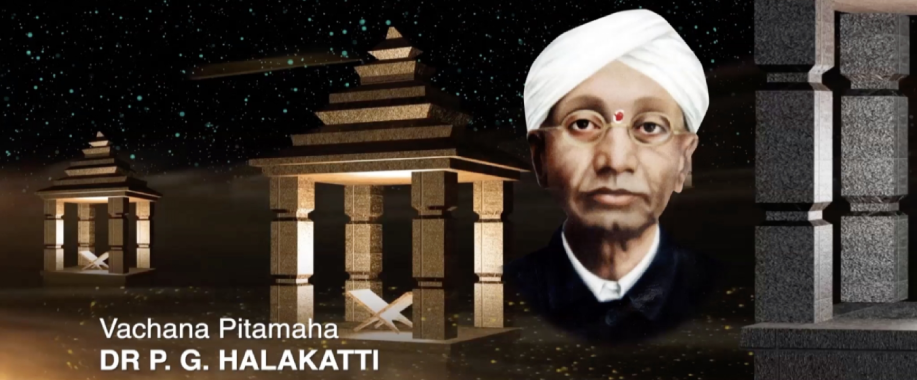 Dr. Phakeerappa G Halakatti was born on July 2, 1880, to Gurubasappa and Danamma. He completed his primary and middle school education in Dharwad and in 1902, obtained a BA degree from St. Xavier College, Mumbai.
Sri P. G. Halakatti, who had the desire to serve society, did not accept any employment opportunities after his graduation. Instead, he continued his studies and completed an LLB degree in first class in 1904
In the same year, he moved to Bijapur to pursue the career of a lawyer. At the house of Sri Shivalingappa Manchale, he had the opportunity to see the palm leaf manuscripts of 'Shatsthala Thilaka' and 'Prabhudeva Vachana', was deeply influenced by them and decided to collect, edit and publish the Vachana literature to reach them to the people
He started 'Hithachinthaka' printing press to publish the collected manuscripts and started 'Shivanubhava' newspaper and 'Shivanubhava Granthamale'. He made people realize that Vachanas of Basava and others are precious.
Dr. P. G. Halakatti started a weekly called 'Navakarnataka' in 1927. This weekly published political, social, educational and employment news. When he needed a printing machine and didn't have the money to buy one, he sold his house which had been built from his hard-earned money.
Dr. P.G. Halakati stared BLDEA in 1910. The small seed he sowed then has today become a massive education movement in the North Karnataka region.
Dr. P. G. Halakatti was chosen as the president of Kannada Sahithya Sammelana (Kannada literature conference) held in 1926 in Ballary. Karnataka University recognized Sri Halakatti's service to literature and conferred on him 'Doctor of Letters' degree in November 1956.
Dr. P. G. Halkatti, who strove for the development of literature and society for over five decades, published more than 115 priceless books during his lifetime.
Dr. B. M. Patil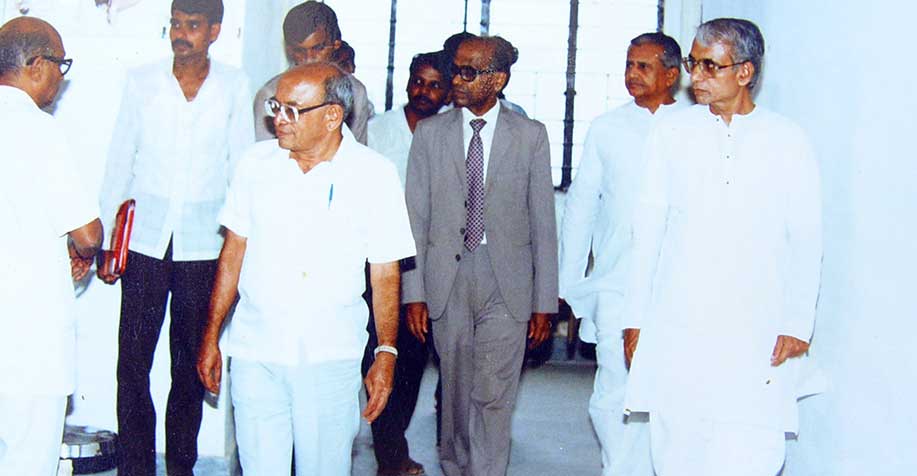 Dr. B. M. Patil was born to Mallangowda Patil and Lakshmibhai on November 1, 1931, in Tikota. After receiving primary education, he joined Sri Siddeshwara High School in 1944 for high school education.
Dr. B. M. Patil obtained a graduate degree in B.Sc. from Lingaraja College, Belagavi, before moving to Bijapur. He was elected as the General Secretary of the college union while studying at Lingaraja College, which heralded the beginning of his political life.
He married Kamala Bhai, daughter of A. T. Patil, one of his maternal uncles, on February 10, 1957, and was appointed as the Director of Bijapur District DCC Bank when he was 25 years old. He served as the president of Bijapur Khadi Gramodyoga Association from 1971 to 1979. He gave land to an Ayurveda College started by the government in 1955-56.
In 1967, Dr. B. M. Patil was elected as an MLA from Bijapur city constituency and became a Municipal Administration Minister in the Cabinet of Sri Veerendra Patil on December 20, 1968.
He efforts to get land for a government hospital in Bijapur bore fruit, and the government gave 162 acres of land. The hospital was inaugurated on January 22, 1976. His tireless to work to bring water from the Krishna River to the drought-prone Bijapur is also noteworthy.
He established an engineering college on October 23, 1980, and a Medical College in 1986. Within a year, he also found a 700 bedded teaching hospital.
Dr. B. M. Patil left for his heavenly abode on July 27, 1990, when he was 59 years. Rani Chennamma University, Belagavi, conferred on him a doctorate posthumously on its first convocation day in 2013.
Dr. M. B. Patil
Dr. M. B. Patil is the president of BLDEA and BLDE University. He was born on October 7, 1964.
He obtained his B. E. Degree from Vachana Pitamaha Dr. P. G. Halakatti College of Engineering. He served as the General Secretary of BLDEA from 1990 to 2005 and is the president since 2005. By establishing BLDE University, he has laid a firm foundation for BLDEA, which has a history of over 100 years. He has been striving to provide quality education in the rural and backward areas of Vijayapura and Bagalkot districts.
Dr. M. B. Patil was elected as an MLA first in 1991 and has won as an MLA five times till date. He has also served as an MP for one term. He has served as the Minister of Water Resources, and Vijayapura District In-charge Minister in the Siddaramaiah-led government, between 2013 and 2018, and as the Minister of Home in the Kumaraswami led Congress-JDS coalition government during 2018-19.
As the Minister for Water Resources, he fast-tracked the implementation of all major projects, gave a significant thrust to micro-irrigation and focused on water use efficiency. He was instrumental in the completion of Ramthal Irrigation Project, Asia's largest community based automated drip irrigation project in record time. During his term as the Minister of Water Resources, Karnataka excelled and won awards in Dam Safety and Rehabilitation Project (DRIP) works. He was instrumental in removing the obstacles for the implementation of the Upper Bhadra Project. The Tubachi-Babaleshwar project, considered by many as a challenging project, was started during his term. Today, most works of the project have been completed. He laid particular emphasis on tank filling projects and as a result, nearly 160 tanks been revived and filled with water from the Krishna River in Vijayapura district. He has successfully led the mass tree plantation project 'Koti Vruksha Abhiyan' in Vijayapura, which involves planting one crore trees in Vijayapura in 5 years. The project is now removing completion. His efforts have made a massive difference to the drought-prone Vijayapura with many parts of the district shining in greenery today. The irrigation projects spearheaded by him have transformed lakhs of farmers in Vijayapura district for the better. Dr. M. B. Patil has made a significant contribution to the fields of literature and research. The initiatives and steps taken by him for the establishment of Dr. P. G. Halakatti Research Centre and translation and publication of Adil Shahi literature and Sharana literature collected by Dr. P. G. Halakatti have earned appreciation for him from all quarters.
He has a keen interest in Buddha and Basava philosophy.